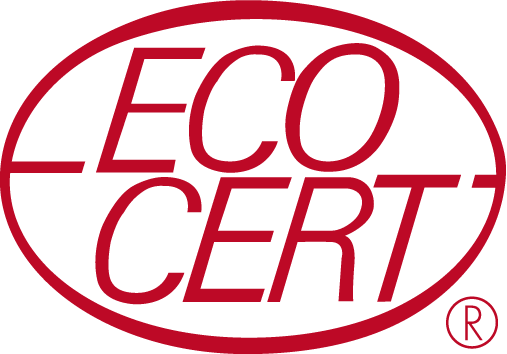 Created in 1991, ECOCERT® is one of the largest organic certification organisations in the world.
ECOCERT® plays an active role in developing organic farming practices by helping to draft French and European regulations on the matter, and assisting the Ministry of Agriculture, the INAO and the European commission with supporting and developing this production method.
ECOCERT® was the very first certification body to develop standards for "Natural and Organic Cosmetics".
Introduced in 2003, the specification was drawn up in conjunction with all stakeholders in the value chain: experts, suppliers, manufacturers, distributors, consumers and development organisations.
To ensure an environmentally friendly cosmetic product, the ECOCERT® standard requires:
1. The use of ingredients derived from renewable resources, manufactured by environmentally friendly processes.

2. The absence of GMO, parabens, phenoxyethanol, nanoparticles, silicone, PEG, synthetic perfumes and dyes, animal-derived ingredients (unless naturally produced by them: milk, honey, etc.), as well as the biodegradable or recyclable nature of packaging.3. A minimum threshold of natural ingredients from organic farming to be reached to obtain certification. In all cases, the ECOCERT standard imposes that a minimum of 95% of the total ingredients must be of natural origin and a minimum of 10% of the total plant-based ingredients must be from organic farming.
Some ingredients very frequently found in cosmetics (water, salts, minerals) cannot be certified as organic because they are not sourced from farming. For example, shampoos and some creams, mostly composed of water, only contain between 10% and 40% organic ingredients. An essential oil, which does not contain water, can contain up to 100% organic ingredients.